Flight over the "Land of Vourvouria"
---
---
Flight over the "Land of Vourvouria" where the sea forms the phenomenon with the "frozen waves" of Greece. It was a refuge for the persecuted of the Balkan wars and monks from Mount Athos lived there.
An impressive beach that combines the mountain with the sea is located in Halkidiki, on the Sithonia peninsula. It is called Vourvourou, like the homonymous village, which has a population of 140 inhabitants, who are engaged in tourism businesses and the production of oil, tsipouro, wine and honey. Behind the beach dominates a mountain, which is covered with pine forest. Opposite it dominates a complex of nine islands which are visible from the coast….
The most famous island is Diaporo, which has a huge natural bay 700 meters long, called "Kryfto" and ends in shallow and warm waters, which attract winter swimmers. There are also the ruins of a pre-Byzantine church of Agios Andreas, which testifies that the island was visited by the faithful many years ago to honor the Saint. In older sources, the area is referred to as the "Land of the Vourvourians" which, during the Byzantine Empire, belonged to the Monastery of Xenophon on Mount Athos. Later the land was bought by Russian monks, but who were expelled by the locals ….
During the Balkan wars, Vourvourou became a refuge for the inhabitants of Amphipolis, Paleokomi and the village "Mikro Souli of Serres". The hunters hid in the area to escape the attacks, however they could not avoid the cholera epidemic, as many fell ill resulting in 110 people dying ….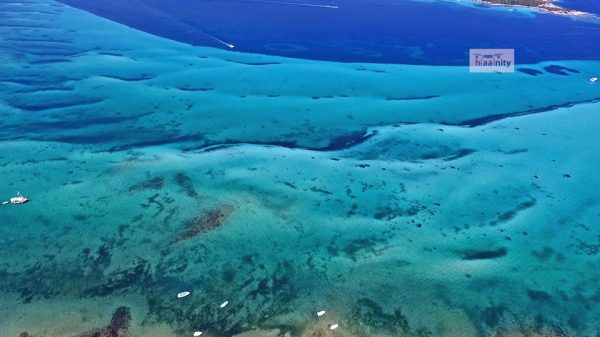 In Vourvourou is also the settlement of fishermen, which consists of fishing houses and its inhabitants fish in the clear blue waters. Visitors can go boating between the islands, walk along the peninsula or go hiking on Mount Itamos, from the height of which they can see the whole of Halkidiki.
See flight of our partner Haanity with the beautiful sea of ​​Vourvourou, in which small sandy hills with impressive formations can be seen …